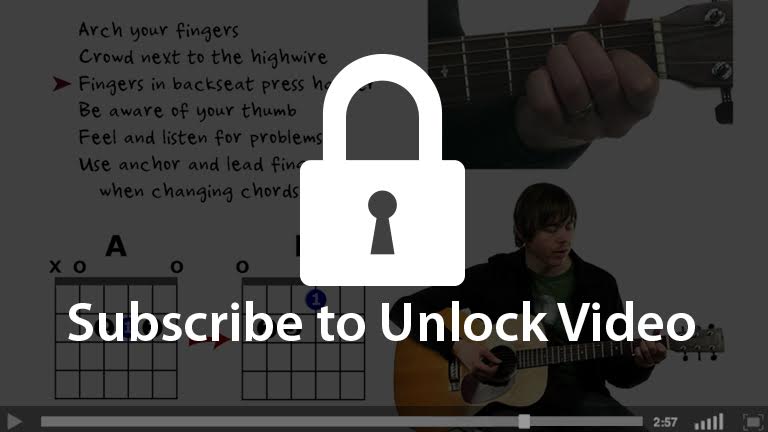 Where Next?
An Easy Next Song to Learn
You now have the skills necessary to teach yourself some more songs on your own. If you're not picky about which songs you learn, I'd start with "For What It's Worth" by Buffalo Springfield. I've got a
thorough lesson on how to play it on YouTube
.
More Good Beginner Songs
Folsom Prison Blues
by Johnny Cash
Let It Be
by The Beatles
Margaritaville
by Jimmy Buffett
Brown Eyed Girl
by Van Morrison
Teardrops on My Guitar
by Taylor Swift
The First Cut is the Deepest
by James Taylor (as performed by Sheryl Crow)
Good Riddance
by Green Day
You Are My Sunshine
by Jimmie Davis
A Horse With No Name
by America
The Joker
by The Steve Miller Band
Come As You Are
by Nirvana
Looking for a Greater Challenge?
I have a few other free song lessons on YouTube right now,
"Hallelujah" by Leonard Cohen
and
"Let Her Go" by Passenger
, that are more advanced, but you might enjoy them if you love the songs and are up for a big project. Look for lots more song lessons in 2016.
Venturing On Your Own
If you want to search for a song you love, I'd stick to songs that use the following chords: A, Am, A7, C, D, Dm D7, E, Em, E7, and G. There are a bunch of other beginner-friendly chords, but these are the most common. Where to find charts for these songs? On this site, of course! I have about 650 charts of tons of easy, popular songs. Just click
Chord Charts
in the menu. Alternatively, you can visit
Strum Videos
and browse the songs organized by which strum pattern they use. Good Luck, and
let me know how it goes
!