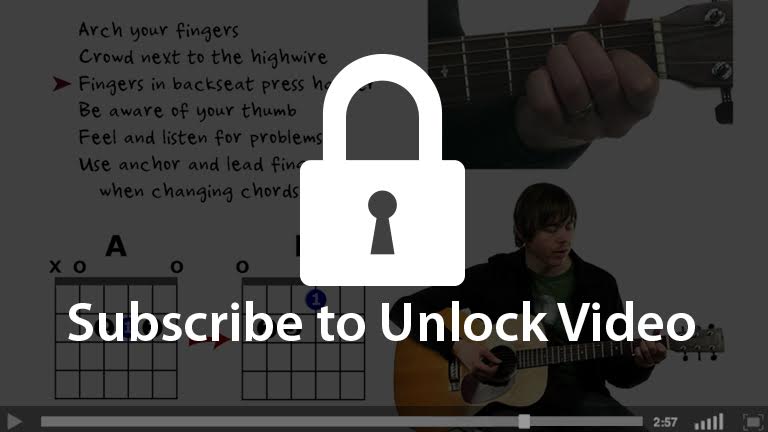 I recommend learning one or two Choose Your Own Adventure songs, and then graduating to Part 2. See you there!
Let's travis pick "Folsom Prison Blues". I'm going to play it kind of moderately fast. You could always slow it down and just make it more mournful. OK, here we go. I'm going to do the trademark riff. If you don't know it, you can learn it in the song lesson I teach for strumming the song.
I hear that train coming.
It's rolling around the bend.
I ain't seen the sunshine since, I don't know when.
I'm stuck in Folsom Prison.
And time keeps dragging on.
But that train keeps rolling on down San Antonio.
OK first of all, I made custom chord charts for each of these Travis picking versions of these songs, so go ahead and download your chord chart and bring it up on the screen or print it out so you can follow along as I teach you here.
And so one difference between this song and the other songs I teach in this section of the course is that I've modified the picking pattern number 3 for this song. I just think it really sounds good to do triple alternating bass. This is normal alternating bass--where my thumb is hopping back and forth between two different strings. OK we're alternating between two strings. Triple alternating means you're alternating between three different strings like this. And, you know, "Folsom Prison Blues" and Johnny Cash's music in general, a lot of his songs really have a very distinctive, triple alternating sound to him, and so I just couldn't resist. I thought this would be a great chance to teach you triple alternating bass, and it'll take a little extra practice to get this picking pattern. But you know, you could always toss it out the window and just do normal picking pattern number three if you don't like it or you can't be bothered.
But assuming you do want to check it out, this is how it would go. For the E chord, since it's a sixth string root chord, we're going 6-435243 6-435243. So that's what we're going to do for E! And for A and B7, since those are both fifth string root chords, we're going to start on the fifth string. And then for our triple alt., we're going to go down to the sixth string. So it's kind of the reverse. It's going to be 5-436243 5-436243. And with the A chord, you can just hit the open sixth string, even though that's not a note that you normally play for an A chord. We are going to include it with the triple alternating bass, and it's a chord tone, so it sounds good. The A chord, you can even include it when you're strumming, but makes the chord sound a little schizophrenic. It's an A with an E in the bass. I do like this little nuance that you may or may not want to include. It's a slight improvement, I think. When the A string is supposed to be ringing, I like to bring my thumb in to damp the sixth string, so it's like this. Bring it in. Bring it in. See my thumb going back and forth. That way, when I'm playing over the A bass note, that E isn't rumbling in the background......it sounds a little muddy to me. But anyway, slight slight difference in sound, and I don't want to overwhelm you with too many things here, so don't feel like you have to do that.
And then with B7 our triple alternate bass note for B7 is going to be on the sixth string, second fret. So you're actually going to be hopping your middle finger back and forth as you play this. Check this out. 5-436243 5-436243 Every time you get to that third beat, you got a hop that second finger over. Doesn't that sound cool? OK, so that's how you triple alternate this song.
Let's talk about smoothing or rather not smoothing out our chord changes in this song. It's kind of hard to do smooth moves with the song, especially if you're playing it at a fast tempo. But the chord shapes just don't really lend themselves toward smooth moves, which is one of the reasons why the key of E is a lesser common Travis picking key. You do actually often Travis pick an E like if you're doing blues music. But one of the nice things about playing blues in that way is you're palm muting the bass strings, and it doesn't matter as much if you're damping stuff, you're kind of like damping stuff by default. But anyway, with this more flowy style. One saving grace is the faster you Travis pick, the less choppy your chord changes will sound just because everything's blowing by more quickly.
One thing you can do to kind of smooth things out, is use what I call the pounce technique. I'm teaching it in some of these other song lessons here where let's go from like E to A. I'm triple alternating here. OK, now I'm going to go to A. What I'm going to do is, you know, I'm fretting the third string, first fret with the E chord and then I'm lifting that finger and moving to the A chord where I have to fret the second fret. What I do is I just wait till the last possible moment. To move to that A chord, and I try to make the move right when I hit that A bass note, and that first note I hit for the A chord masks what would otherwise sound choppy as I move my fingers to the A. And so think of it as like waiting till the last possible moment to move to the A chord. And you don't have to get to the A chord super quickly because you're only hitting the A bass note, for starters, right? And that A bass note is open so you don't really have to fret anything. So you hit that A bass note and then a split second later your fingers go down and land on those notes. And so that bass note will mask your tracks. You're hiding your tracks as you're moving from the chord.
Going from the E to the B7 is the same idea. All the chord changes just try to make them at the last possible moment, and then they won't sound choppy. You could do a smooth fret move from the B7 back into the E, but you know, if you're doing pouncing for the rest of the song, I don't really think it's worth it. Maybe if you're going in a really slow tempo, but at the speed I was playing, pouncing tends to work fine. All right. Have fun with this song. This is a rollicking good time, and I think Travis picking brings a whole cool angle on this well-known song, so I hope you have fun with it.
How's it going?
Are you loving the lesson? Confused? Have a suggestion? I'd love to hear from you.