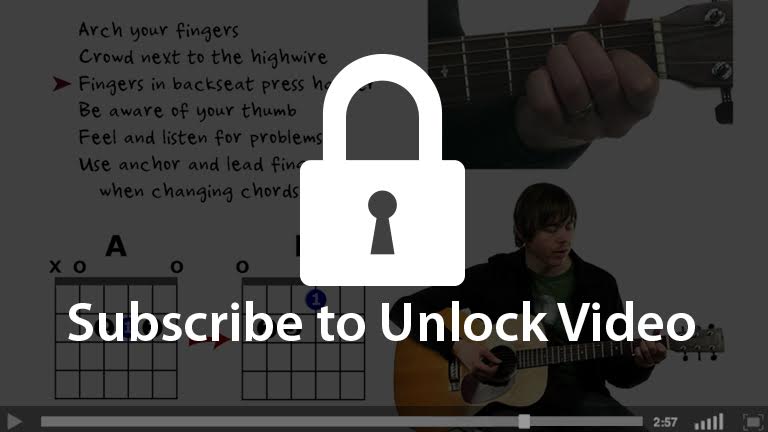 OK, welcome to syncopation boot camp! But before we get started, some congratulations are in order. If you've made it this far and you've learned how to play "You Are My Sunshine". You've gotten through the biggest obstacle between you and becoming a chord-melody Travis picker. You've got your thumb and your fingers starting to work independently. That takes a lot of work. So nice work.
You're almost ready for your final challenge in this course, which is a chord-melody solo for "Orphan Girl". But first, we need to train you how to syncopate melody notes. Syncopation means hitting notes on the off beat, like the notes between the beats and when you're Travis picking, usually your thumb is playing on the beat like one, two, three, four, like that. And so you can think of syncopated melody notes and Travis picking is just the notes that happen in between your thumb notes like this. Hear how that note happened in between my notes? And I haven't taught you how to do that yet. "You Are My Sunshine" didn't have any syncopated melody notes--one of the reasons why I chose that as your first chord-melody song is that the song still sounds OK, even if you don't syncopated it.
If you did syncopate it "You Are My Sunshine", it would sound something like this. Hear how the melody sounds a little lighter, a little more playful? "Orphan Girl" is going to have those kinds of syncopated notes in there. They're a little harder to play. And so I want to get you ready to play them.
The exercise I'm going to take you through, I learned from Pat Donohue, who is a national fingerpicking guitar champion who's also in the house band of the old radio show Prairie Home Companion. You may remember him from that show. I met him at guitar camp years ago and took a workshop from him, and he taught us this exercise in the workshop. He calls it the Da-pinch exercise, and I recommend you do this exercise. Work it into your daily routine for at least the next several weeks.
Syncopation boot camp is actually eight little mini exercises, all strung together. I'm going to be playing them one right after the other, with no stopping. And while I recommend that you do this exercise as I'm going to do it here once you're able to. In the meantime, you're probably going to need to pause the video at each exercise to practice it so that you can get it under your fingers a little bit. And then it may take a little while before you can easily switch between the different patterns you're going to do so anyway. Feel free to stop and start as much as you need to give these exercises extra attention.
But when you can try to do the whole exercise in one go.
Here's a diagram of the first exercise we'll do. And here's what it sounds like. Don't try to play along yet. Just listen. It's called a Da-pinch..... like this, the Da-pinch. Our first finger plays a syncopated note, which is the Da. And then we pinch on beat one. I call it a 3-2 Da-pinch because that's the order the strings are played in. The third string and then the second string.
We'll be grabbing a G chord for this whole exercise alternating between 6 and 4. So go ahead and grab your G and then also check in with your picking hand technique. Hold a lemon. Tilt your wrist. Make a cross. We'll be pinching neighboring strings in some of these exercises. You don't want your fingers banging into each other, right? So make sure you're making that cross and then plant before you play. We're going to be playing on the middle tier. So your thumb rests on the sixth string, pointer finger rests on the third string. Middle finger rests on the second string. OK, here we go.
Here's our first exercise:
It's called the 3-2 Da-pinch. One, two. One, two, three, four.
Now we're going to do the 3-2 pinch-da. Here we go. One, two, one, two three, four.
Now we'll do the 2-3 da-pinch. One, two, one, two three, four.
And now the 2-3 pinch-da. One, two, three, four.
Now we're going to switch to pinching on the second beat instead of the first beat. This is the 3-2 da-pinch pinching on the second beat. One, two, three, four.
Now we'll do the 3-2 pinch-da on the second beat. One, two, three, four.
Now we'll do the 2-3 da-pinch on the second beat. One, two, three, four.
And finally, the 2-3 pinch-da on the second beat. One, two, three, four.
How's it going?
Are you loving the lesson? Confused? Have a suggestion? I'd love to hear from you.