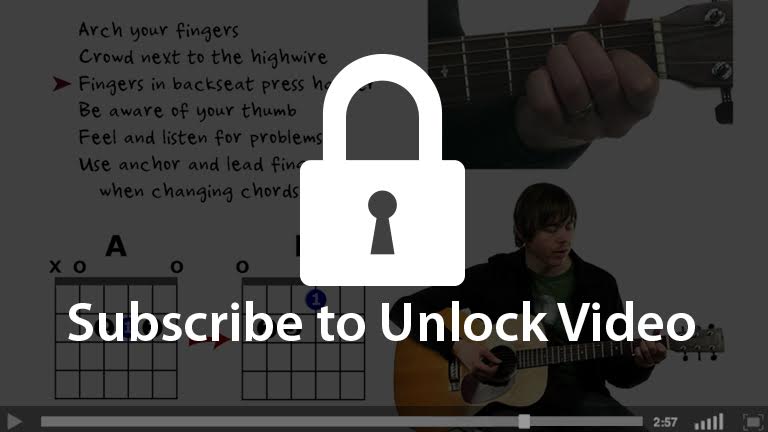 I recommend learning one or two Choose Your Own Adventure songs, and then graduating to Part 2. See you there!
Let's learn how to try to Travis pick "Me and Bobby McGee". Here's what it's going to sound like. I'm going to through the first chorus so you can see what I'm going to teach you.
Busted flat in Baton Rouge,
heading for the trains.
Feeling merely faded as my jeans.
Bobby thumbed a diesel down
just before it rained.
It took us all the way to New Orleans.
I took my harpoon out of my dirty red bandanna.
And was blowing sad while Bobby sang the blues.
With them windshield wipers slapping time and Bobby clapping hands,
we finally sang up every song that driver knew.
Freedom's just another word for nothing left to lose.
Nothing ain't worth nothing, but it's free.
Feeling good was easy, lord, when Bobby sang the blues.
And feeling good was good enough for me. Good enough for me and my Bobby McGee.
OK, so this song is a little bit harder than the other songs in this part of the course because it's got a lot of chords in it. And that's mainly because there is a key change halfway through the song, but I think it's still manageable for a lot of guitarists anyway. So if you like this song, let's go for it.
I want to go through each of the chords in the song. The G chord, you probably know well. I like this fingering as you know, for Travis picking it frees up the other fingers to do smooth moves and chord-melody stuff later on. The D7/F# you already know from earlier in the course. Feel free to use your alternate fingering if you can't grab with the thumb. And then the G7 here is a really cool kind of finger style specific fingering. So if you're grabbing this G chord, the way I recommend, you really don't need your pinky on the first string, third fret because you're not hitting that string with this picking pattern. We're using the pattern number three, same pattern is all the songs in this part of the course. So that pinky is really freed up, and when you get to the part where you change from the G to the G7, you just drop that pinky in on the fourth string, third fret. You get a G7......isn't that cool sounding?
C is normal.
And then at the key change, we go to key of A. So we have an A chord which might be a little crowded for some people with wide fingertips. There are a variety of A options for people like that. You can stagger your fingers with your first finger on the third string, second fret, second finger on the fourth string, second fret, third finger on the second string, second fret. Sometimes that fits a little bit better. And you can also do the bratwurst bridge, which just use one finger and barre those second, third and fourth strings. Any of those work.....they do limit your ability to smooth out your chord changes, but it's not the end of the world if you have to use those.
And then E7, you may not know......if you know an E chord, though it's just an E chord with your third finger lifted up. That's your second finger on the fifth string, second fret, first finger on the third string, first fret. All of those strings are open.
And then there's an A7 in the song, and if you use the normal A fingering, you just lift your middle finger. You can also use your first and second fingers. with the chord, which makes it a little less crowded.
And then the D/A is just a normal D. But then, you're picking the D like that where your first note with your picking pattern is on the fifth string. You're alternating between the fifth and fourth strings with your thumb. So you pick it the same way you would pick like an A chord. And I just chose this voicing instead of D/F# just because I thought it sounded cooler in this part of the song.
OK, so let's talk about your smooth moves. First of all, the usual suspect for dealing with smooth moves in a key of G song is the D chord in this case, the D7/F#. You know, when you go from G to C, you've got an open third string and so you don't need to do anything special going in and out of those chords. Because that open third string is going to ring through your chord change, it's going to sound fine. But with the D7/F# you gotta fret that third string, second fret and so as you move into it, like from the G chord, you want to do the smooth fret move, which is fretting that third string, second fret early like this. So that's with our middle finger, we're picking that G chord and then fretting with our middle finger on the third string, second fret, which gets us into the D7/F# and then we do the opposite to get back out of it back to the G chord, we left that middle finger early to get back to the G, so it's like 6-43-624, lift, back into the G chord. So that'll smooth out your transitions in between the D chord and the other chords in the song. The G7 is very easy to play smooth........ unless you totally screw up like that. You don't need to do anything strange, but things get tougher in the second half of the song. I'm going to scroll down here so I can see the chords.
Yeah, there's no really easy ways to smooth out most of these chord changes, like going from A to E7. And so what I recommend is doing what I call the pounce move where you basically you don't change your third string note until you hit the base note of the next chord. So let's see you're going from A to E7. You hit that last note and then you don't move your fingers until you hit that open sixth string for the beginning of the measure of E7. So it's like. ........So I wait a little bit until I hit that E7 and then I move my fingers into the E7 shape. There we go. There's an E7.
So I call it the pounce because you move quickly, kind of at the last possible moment. And your bass note of the chord that's coming up masks the sound of your fingers moving to the next chord. It kind of covers your tracks. There is, however, a really cool, smooth move going from the A to the D/A or the A7 to the D/A. So like........
Somewhere near Salinas.
I let it slip away.
Looking for the home, I hope she'll find.
So you're playing the A7 and then check this out, you can just get rid of your first finger and fret your second finger on the third string, second fret and bring in your pinky. And whoops, got to put down my pinky. There we go. And now we're picking that open fifth string bass note. And we've got our second finger playing this note on the third string, pinkie playing this note on the second string, second finger still stays there because we're going to need it in a second and it is sort of superfluous right now, but that's OK. We'll get to it in just a second. By the way, with this voicing, we're not even bothering with the first string. We're not hitting it and this picking pattern. So no big deal.
So we've got that A7. And then switched to that funny fingering for the D/A, and that makes for a very smooth change. And then you can go right back from that into the A. And so moving in and out of that D/A is made a lot smoother by using that alternate fingering.
I'm kind of on the fence sometimes about whether alternate fingerings are worth it. Sometimes they're just kind of specific to a particular song, you know, and if you're a beginning guitarist, sometimes it takes a lot of work to learn an alternate fingering, so again, this is a reason why this song lesson is somewhat more advanced than the other song lessons, but I really do think that if you can manage that alternate fingering, it's worth it because it makes that chord change so much smoother. OK I really hope you enjoy this song and good for you for trying to tackle one of the tougher songs in the course, and I hope you enjoy it.
How's it going?
Are you loving the lesson? Confused? Have a suggestion? I'd love to hear from you.