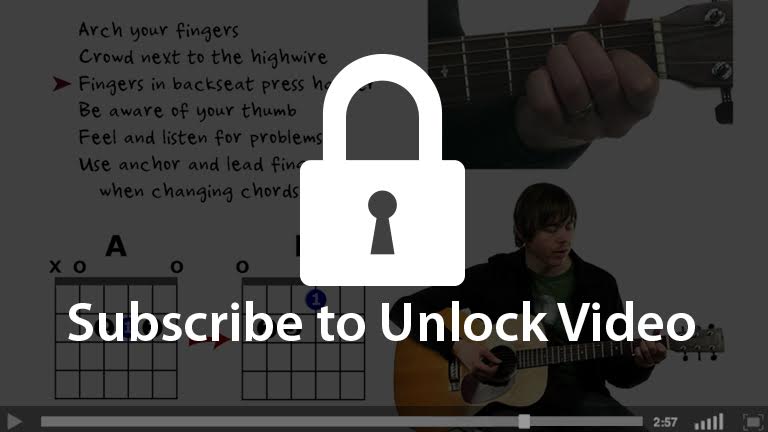 Here's how to play the interlude/outro part that I play at the end of my demonstration.
I recommend learning one or two Choose Your Own Adventure songs, and then graduating to Part 2. See you there!
Let's learn how to try this pick "Let It Be". I think the song sounds super sweet Travis picked. It has a whole new level of tenderness and peacefulness about it. This is what it'll sound like.
I find myself in times of trouble, mother Mary comes to me
speaking words of wisdom, let it be.
In my hour of darkness, she is standing right in front of me.
Speaking words of wisdom.
Let it be, let it be, let it be. Let it be, let it be.
Whisper words of wisdom. Let it be.
OK first of all, I've made custom chord charts for each of these Travis picked versions of these songs, so check out the chord chart and the Download section down below, and you'll notice that there's one chord that's kind of a finger style specific chord in there. It's the D/F#, and it's a lot like the D 7 /F# that you already have learned in this course. You just grab a D chord and then you wrap your thumb around on that sixth string, second fret. Damp the fifth string if possible, but it's not really that necessary. And again, you can use an alternate fingering if your neck is too wide or your hand is too small to fret this chord. You can put your first finger on the sixth string second fret, second finger on the third string, second fret, third finger on the second string, third fret and you don't have to fret the first string. We don't pick it with this picking pattern we're using.
Just keep in mind that some of the smoothing techniques that we use are specific to this fingering, so you may need to modify or just not smooth out your chord changes sometimes. Speaking of smoothing, well, first, I should mention, like all the songs in this section of the course, we're going to use the pattern number 3 from the plethora of Travis picking patterns sheet that I made for you.
Let's see here. The D/F# is the only chord that really requires smoothing. All the other chords have an open third string, and so you don't really need to do anything special since we end on the third string in our picking pattern. But with the D/F#, you need to smooth as you go in and out of it, because we're going to be fretting the third string, second fret. So the way you do that is like as you're going from G to D/F#, you're picking the G. And then on that last note, you're going to fret the third string, second fret early. We call this smooth fretting, and so it sounds like this. See how that works? We grab that note early right here, and then we build the rest of the chord to pick the measure of D, and then we do the opposite to get out of D/F#. We lift early. It's called the smooth lift, so we're on D/F#. We're going to E minor. We go like this. See how I hit that open third string early. Right here. Move to E minor.
And there is one other spot where it would be nice to smooth when you're going from E minor to D/F#. Well, like I said, we want to smooth in and out of that chord all the time. It's just that going from E minor, your first fingers are already tied up. And so you can't really grab that D chord, if you're using this fingering. You could grab it in a different way, like with these, with your second, third and fourth fingers. I don't know if it's really worth changing your whole fingering for this chord in order to get that smoothing.
And really, there are other options for smoothing. I haven't taught this yet in the course, but there's something I call the pounce that you can just be aware of. It's, you know, it's just going to have a minor effect on your sound. But if you want to really polish this song, the pounce is when you just make sure that you don't cut off your note until right when you hit the first beat of your next measure. So let me show you how this would work if you're going from E minor to D. Normally, like if you were strumming, I don't know if you've ever noticed this or thought about this. I don't really think about it, but we actually grab our chords like a hair early and then we strum a split second after that. That's just typically how people make chord changes. And when you're Travis picking, you want to override that and really just fret at the very last moment. So it would sound like this E minor. And then right when you go to the sixth string here, that's when you touch the third string with your first finger. Let me play that normally. So it's like I'm fretting that and I'm touching or I'm fretting the third string, second fret like simultaneously. If you were doing a hammer on it would sound like a hammer on right on the first beat. So you don't need to do a hammer on, although that is a technique for Travis picking. The point is you let that open third string ring until the last possible moment. And that way people don't hear you cutting off the note. It's masked by hitting that bass note there. See how that still sounds smooth? So try using the pounce there as you move from the E minor to the D/F#, it happens right at the beginning of the course. All right. Enjoy! Have fun. Take care.
How's it going?
Are you loving the lesson? Confused? Have a suggestion? I'd love to hear from you.