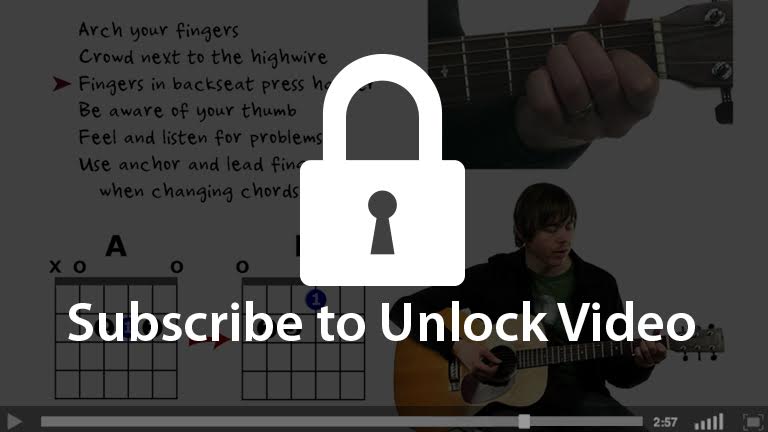 Now I want to help you make your finger picking flow. What I'm about to teach you has a huge impact on how good you sound playing finger style. Let's look at strumming, though first. A lot of you have taken my Strum and Sing in 60 Days Course. And as you know, when you're strumming, usually you want your chord changes to sound smooth. Not always, but usually you want them to flow one into the next. And the technique we use to do this, or one of the techniques is called the smooth move. It's a silly name I gave it. And you can see here as I move from the C to the D chord, I'm just going to use the folk strum pattern. What I'm doing here is lifting my fingers on the last upstream- down, down, Up, down, lift, and hitting open strings. And this ends up sounding so much better than leaving your fingers, fretting the chord until after your last upstrum and then pouncing on the next chord. Iit tends to sound choppy doing it that way.
Well, when we're playing finger style, we have the same goal in mind. We want our chord change to sound smooth, and we use a similar technique or similar techniques to achieve this. Bruce Emery, one of my favorite guitar instruction book writers, calls what we're after the continuity principle. The continuity principle says that you want to have at least one note ringing as you're moving from chord to chord. In other words, you don't want to cut off notes as you're making chord changes. I think the continuity principle is a little bit of a mouthful, so we'll just call it smooth moves.
Now, in particular, we want to take a look at the very last note you hit in a picking pattern before you make your chord change. So, for example, let's pick over a C chord doing the 5-3-4-2 pattern, the one you've been working on. And it's that note on the second string-two right there. It's that note you want to take a close look at in order to figure out how to make a smooth move.
And one of the most common techniques you'll use is just to lift your finger early and hit the note that is going to be in the chord coming up. And since we're going to move to a G chord here, which has an open second string, what we're going to do is hit that open second string early right as we lift our fingers to make the chord change. Now I said, we lift our finger on the second string early. We're actually lifting all our fingers to move to the G, but you're going to hear that open second string. Listen to me do it, OK? I'm going to pick the pattern twice and then make the chord change.
So see how I did 5-3-4-2, 5-3-4 lift? And I hit the open second string right before I went to that chord. And so technically, we're not playing a chord tone there at the very end our measure of the C chord, but, you would think that might sound dissonant or something. In fact, this is a very common musical technique. Often composers will actually do this, as you know, just for musical reasons when they're composing music. So it sounds very pleasing. It doesn't sound weird. It's a lot like the smooth move where you think, oh, you're going to hit all open strings on the guitar. That doesn't sound very good, but it ends up sounding just fine.
So grab a C chord and we're going to do that 5-3-4-2 pattern again. And let's pick the pattern twice as I was demonstrating earlier. And the second time around, when you get to that very last note, lift all your fingers so that when you pick the second you're picking the open string there instead of first fret. And let's not even worry about getting to the G chord. Let's just focus on hitting that open string and letting it ring. So it'll sound like this. Just like that.
All right, ready. 1 and 2 and 3 and 4 and. Let's do it again. 1 and 2 and 3 and 4 and. Two more times, 1 and 2 and 3 and 4 and. 1 and 2 and 3 and 4 and.
Good rewind and do that some more if you want or practice it more on your own when you feel like you're ready, let's move on to grabbing the G chord afterwards.
Let's just start with hitting the G bass note, so it'll sound like this. So we'll just hit that G bass note. Here we go. 1 and 2 and 3 and 4 and. Let's do it again. 1 and 2 and 3 and 4 and. Two more times, 1 and 2 and 3 and 4 and. And one more time, 1 and 2 and 3 and 4 and. OK practice that some more on your own if you want when you feel like you're ready, let's do a full measure of C and then a full measure of G.
1 and 2 and 3 and 4 and. Again, 1 and 2 and 3 and 4 and. Two more times, 1 and 2 and 3 and 4 and. And one more time, 1 and 2 and 3 and 4 and.
Now, this technique of lifting your finger early is just one example of many different ways that finger style guitarists create this flow, this continuity in their chord changes. Here are some other examples of things guitarists do. One thing is you don't have to do anything if the last note that you're hitting in your picking pattern is the same note that's being fretted in the chord coming up, for example, A minor and C both are fretted on the second string first fret. So as long as you just leave your finger there, it works out fine. No special move necessary to get that to sound smooth.
Something else that you can do this is kind of the other side of the coin with that lifting move that we did in moving from C to G. Let's say we were moving from G to C-what we could do is actually fret the second string first fret note early as we move to the C chord. Check this out. I'm using both the lifting and fretting technique.
See, that works? Now, sometimes you actually don't have a finger available to fret a note early. And so in these cases, I like to use a quick and dirty trick I call the pounce. And you'll encounter chord changes like this in the choose your own adventure songs coming up later in this course. So listen up.
For example, let's say we're picking the E minor chord using this pattern where we hit the third string as the last note. And everything's going swimmingly. But now we want to change to a D/F# which often happens. in the key of G. And you know, with the D chord, we would be fretting the third string second fret, right? And so ideally, we would fret that note early using the smooth move technique that I just described earlier, but got all your tentacles tied up in the E minor chord. And if you leave early, then now you've got an open fourth string that you're going to hit earlier on in the pattern. It's going to be this domino effect and it's not going to sound good. And so all is not lost, however.
To use the pounce technique, what you do is you just make that change to the D chord right on the downbeat of the chord change. You come down on the D/F#, just as you're hitting the sixth string bass note of the new measure. It sounds like this. Let me do that again. See, I'm pouncing on the strings, I like to call it the pounce, because it's this quick, precise movement right on the beat. And the reason why this works is, you know, we want to avoid the sound of strings being cut off. Well, if you can't totally avoid it, what you can do is camouflage it. You can mask it. The sound of you hitting that bass note masks the sound of us fretting the open third string and changing it to the second fret. What this requires is some fast, accurate fretting. And so it's a little bit more of an advanced technique. I wouldn't call it advanced, but you do have to be fairly precise at your chord fretting to really get it to work right.
Thankfully, smooth moves are kind of a work in progress for you as a budding Travis picker. You don't have to get them perfectly to sound really good.
Another thing you can do is keep hitting an open string as you move from chord to chord, for example. This is how "Blackbird" was composed. That open third string, that you keep going back to--it's called the pedal tone. And because that string never gets touched as we move from chord to chord, you can just keep it ringing continuously. It's like this thread that weaves all the chord changes together and makes them all sound smooth.
Another thing you can do this is like what Lindsey Buckingham did in "Landslide". He couldn't be bothered with all these fancy smooth move shenanigans. He just skipped the last eighth note in his picking pattern like. So check this out, he's going 1 and 2 and 3 and 4, and he just stops there. He doesn't play on the end of four. Which gives them a little bit of time to move to the next chord. And it gives the picking this nice ebb and flow. You wouldn't always want to do that when you're playing finger style. But in that particular song, I think it adds to the musicality of the song to have this kind of ebb and flow of the notes.
Now I'm not going to teach you all of these techniques now. It would be overwhelming. And really, I think they're best learned as you encounter them in songs. But let's just rewind for a moment and take a look again at leaving on a jet plane. And now that you know a little bit about how smooth moves work when you're playing finger style, I want you to see if you can figure out what I did in that song to create continuity, to smooth out the chord changes. And I just want to highlight again that what you want to look at is the last note that you're hitting in your picking pattern before you make a chord change.
So let's review in that song. Remember, we were using the 6-2-4-3 pattern. 6-2-4-3 and sometimes we switch to 5-2-4-3, right? But in either case, the last note we're hitting in that picking pattern, what is it? It's the third string, right, 6-2-4-3. And so I want you to take a look at that third string and see what are the notes doing on that third string. As you move from chord to chord in that song, if you want to pause the video for a second. See if you can figure out what's going on.
So what you probably noticed was that open third string is untouched, the whole song. It stays open, the whole song with your G chord 6-2-4-3, that's an open third string. And then when we move to the C/G. Same thing, C chord, it's open. In that Dadd4 also has that open third string, which is part of the reason why I chose that Dadd4 for voicing instead of a normal chord with a normal cord, you'd have to fret the third string second fret, right? So remember way back when you were learning that song, I told you that there was a reason why I was choosing those particular chords. This is the reason.
How's it going?
Are you loving the lesson? Confused? Have a suggestion? I'd love to hear from you.