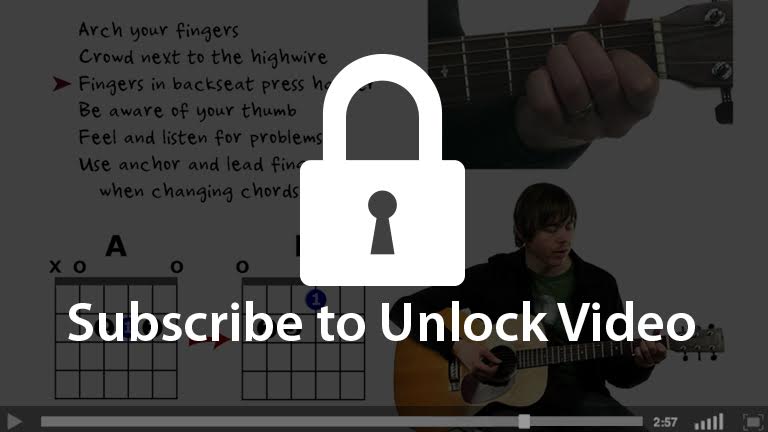 I recommend learning one or two Choose Your Own Adventure songs, and then graduating to Part 2. See you there!
Let's learn to try this pick "Take Me Home Country Roads". Actually I Travis pick the song all the time. It's one of my kid's favorite bedtime songs and to kind of get a more.....you know, getting ready for bed kind of vibe for the song, I typically capo it up and then sing down pretty low, quite a bit lower than John Denver. So I'm kind of in like a low whispery tone of voice. It facilitates a peaceful bedtime for the kids.
And I also came up with a little chord melody for the intro and wanted to share that with you. So I'm going to play that and then I'll play a verse and a chorus trying to stay kind of true to the way I'm teaching you to Travis pick the song. I'll also play the bridge, I'm going to jump straight to the bridge so that you can see how the bridge works. The bridge has different chords, different chord progression than the rest of the song, and then I'll finish with the final chorus with a little something extra that I added to the Travis picking. And if you already kind of know how to Travis pick and you have a good ear for music, maybe you can pick up on this stuff, the fancier stuff that I do. If not, maybe I can teach it in a future lesson.
OK, so this is a little taste of what this song's going to sound like. Here we go.
Almost heaven. West Virginia. Blue ridge mountains, Shenandoah River.
Life is old there. Older than the trees. Younger than the mountains. Blowing like a breeze.
Country roads. Take me home. To the place I belong. West Virginia. Mountain mama. Take me home. Country roads.
Here comes the bridge.
I hear her voice, in the morning hours she calls to me.
The radio reminds me of my home, far away.
Driving down the road, I get a feeling that I shoulda been home yesterday, yesterday.
Country roads. Take me home. To the place, I belong.
West Virginia. Mountain mama.
Take me home. Country roads.
OK, so obviously that was like a super chill version of "Take Me Home Country Roads". Of course, choose a key that you prefer. Scoot the capo, up and down until you find one that suits your voice and your energy level. And let's see here. I want to point you to the custom chord chart that I made for this song. All these songs in this section of the course have chord charts specifically for the Travis picking arrangements of the songs, and so pull that up on your screen or print it out.
You'll notice that there are probably I think there are going to be some new chords to you here. I haven't taught the D/F# yet in the course, so that looks like a normal D, and then you wrap your thumb around the sixth string, second, fret like that. And if your neck of your guitar is too wide or your hand is too small to get that thumb note to work, you can use a similar alternative fingering to the one that I recommend for the D7/F#. You can use your first finger on the sixth string, second fret, second finger on the third string, second fret, third finger on the second string, third fret. You can just ignore the first string, we're not going to hit it anyway in this song, at least not on purpose. So that's going to be D/F#.
And then there's also a finger picker's F in here. I call it the finger picker's F because it's really....you typically just see this fingering when your finger picking. You put your first, second and third fingers all in the diagonal on the first string or excuse me, second string, first fret, third finger, second fret, third string, second fret and the fourth string, third fret. Slow down, Rob......and then your thumb goes on the sixth string, first fret here. And again, this is kind of a big handed person's chord. Big handed person with smallish guitar neck's chord. And so if that doesn't work for you, you can totally use an F/A, which is just, you don't use your thumb, and you hit the open fifth string. So instead of going...... Instead of going like that........you're going like this. That A note is totally harmonious with the F chord, it's just not a bass note, it's not the root note of the chord. Um, you could also do a F/C, you move your third finger over to the fifth string, third fret and you sneak your pinky here. Also, a very pretty variation on the F chord. So if you're used to fretting that F/C or you just like the way it sounds, you prefer F/A, go for that one.
So let's look at how we smooth the chord changes in the song D/F#. You want to do something to smooth the transition in and out of that chord. A lot of the other chord changes all have that open third string ringing, and so that knits things together nicely without any extra work on our part. But yeah, since we fret the third string, second fret with the D/F#, you need to do something a little special. Now, in the chorus where you're going like from the G to the D/F#, you can do the smooth fretting technique. So we bring our first finger over to that third string, second fret and fret it early and then grab the rest of the D chord like that. And then we lift early to get out of it into the E minor chord, so we're doing the smooth lift out of the D/F#, hitting the open third string as we move into the E minor.
So that will take care of the chorus. Now in the verses, we're going from an E minor chord to a D/F#, and that's more problematic. We've got our first and second fingers tied up with this chord, and, you know, we could modify our E minor chord and also modify the way we fret the D/F# in order to accommodate for this chord. But I find it kind of annoying to have to do multiple chord fingerings in a song. I try to avoid it if possible, and especially at this point in your guitar playing career, I don't want to make things too complicated, so I want to show you the pounce, which is kind of the backup, if other smoothing techniques don't work and the way you do, the pounce is you basically just wait until the downbeat--the first beat of your chord chang--to touch the third string. You basically wait until the last possible moment. What happens is your bass note.....the first note that you hit in your chord change......is going to mask touching the third string. This is what it sounds like: you're stuck with E minor and right when you hit that bass note, that's when you fret with your first finger; it's simultaneous-- all the third strings ringing and then you bring your first finger down and your thumb down and pick that thumb note all simultaneously. And so that ends up masking it, cutting off that note. You're cutting it off technically, but the bass note kind of covers your tracks. I call that the pounce because it kind of physically feels like you're kind of waiting for the last moment and then boom making the chord change.
Now in the bridge, you've also got an E minor transition, but this time to an F chord. And again, the pounce is going to work for you in that case, too. So E minor, and then when you go to that F, grab the F right when you grab your thumb note and hit that bass thumb note all simultaneously.
And then finally, at the end of the bridge, there's that D/F# and then you go to a D7/F#. And to really make that sound smooth, I actually do recommend using an alternate fingering. In your chord chart it just shows D/F#, with your thumb on the sixth string and your first and third fingers on the third and second strings, but check this out:
So feeling like I should have been home.......when you go to D/F#. Check this out. Use your thumb and second finger, thumb is normal, second finger on the third string, second fret and then your pinky on the second string, third fret. So it's thumb, middle finger and pinky. And then, even though it's a little hassle, a little bit of a hassle to learn this new chord shape, then when you go from that to the D7....... See how easy that is? You just sneak in your first finger on the second string, first fret and lift your pinky. Isn't that smooth? And then I like to throw in a little first string, second fret right at the end to kind of punctuate that transition. Something like that should smooth out your chord changes in the song. Enjoy. I think it's a beautiful song to Travis pick. I hope you enjoy it too. Take care.
How's it going?
Are you loving the lesson? Confused? Have a suggestion? I'd love to hear from you.